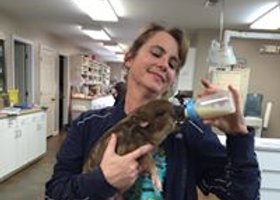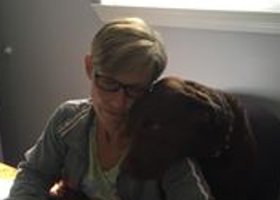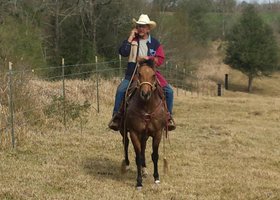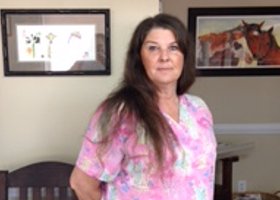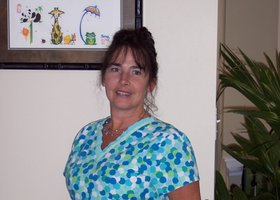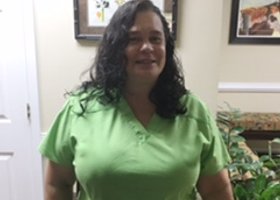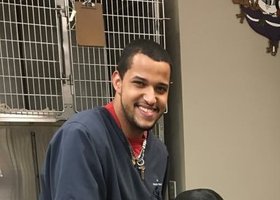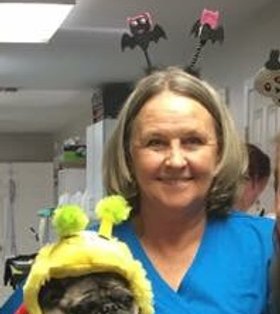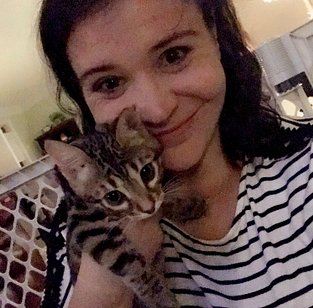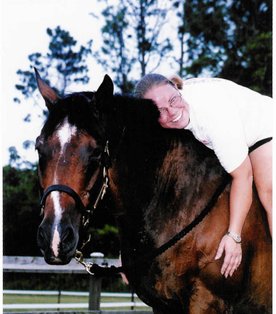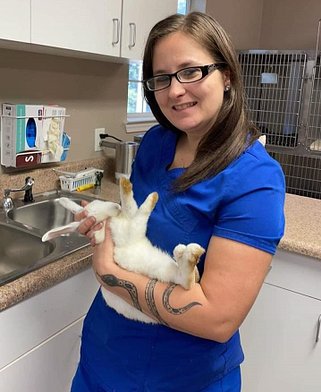 Veterinary Staff...
Because Animals Need Heroes Too.
Charlotte has been with TLC as a receptionisty since 1997, when TLC opened. She is a member of the ASPCA & Wildlife Federation of America. She & her husband Steven have 3 wonderful children & 14 beautiful grandchildren. They also have many four-legged children including dogs, cats, horses, ducks, & geese.
Ginny has been a veterinary technician & receptionist since 1996 & has been with TLC since 1999. She graduated in August 2008 from Jefferson State Community College with a degree in Veterinary Technology. Ginny loves being around & working with animals & cannot imagine her life any other way. Her pets include 5 dogs & 1 cat.
Shannon has been working with animals all her life & in the veterinary field off & on since 1995 as a tech & receptionist. She attended Auburn University & graduated from the University of South Alabama with a Bachelor's degree in Biology. Shannon enjoys spending time with her fur babies, glassblowing, & the outdoors.
Rebekah has been in the veterinary field as a receptionist, tech, emergency tech, & surgical tech since 2014. She has a Bachelor's degree from William Carey University. Rebekah's hobbies include FitBody Bootcamp, running obstacle courses, & spending time with family, including her F3 Bengal cat, Sampson.
John has been with TLC since 2012, but has been a veterinary technician for many years. He plans to continue his education and become a veterinarian. He has several dogs & chickens of his own that keep him busy!
Lorry has a lifetime of animal care experience. She has been with the TLC family for several years. She spends most of her spare time training and riding horses, as well as making pottery. She has 1 daughter (McKinley) & 2 dogs (Gumby and Mandel).
Val has worked in the veterinary field most of her life & has been with TLC as a veterinary assistant & receptionist since October 2007. Animals are her life as evidenced by her pets including cats, dogs, & horses.
Donna has worked in the veterinary field for over 20 years. She had been a veterinary technician at TLC since 2011. She has 4 dogs: Marley, Little Momma, Ratatouille, Millie, and Mandy. Her favorite hobby is spoiling her 6 grandchildren.
Dr. Randy Craig is a graduate of Mississippi State University College of Veterinary Medicine. He participated in special skills rotations for canine orthopedic surgery and equine nutrition at MSU and has maintained a special interest in small animal orthopedic surgery. He continues professionally, with those orthopedic cases exclusively here at TLC, as well as providing large animal veterinary care with his own practice, Craig Veterinary Services. Dr. Craig is an Associate Professor of Biology for Wayland Baptist University in Texas and the University of Mobile. He & his wife, Patty, reside in George County, MS on a farm filled with dogs, cats, horses, and chickens!
Dr. Lynne Leonard, graduate of Mississippi State University College of Veterinary Medicine, is International Veterinary Acupuncture Society certified in small & large animal acupuncture. She is married, & while she has no two-legged children, has many of the four-legged variety. These include 3 dogs, 2 cats, and several chickens. In her free time, you will most likely find her outside running, biking, or hiking!
Dr. Traci Freeman, graduate of the University of Tennessee College of Veterinary Medicine, is past vice president & president of the Mobile Baldwin County Veterinary Medical Association. She has also participated in several foreign veterinary mission trips including those to Kenya, Uganda, & Mongolia. Dr. Freeman's hobbies include horseback riding, travel, kayaking, painting, & many other outdoor activities. She is married & has several four-legged children including 4 horses, 4 cats, 2 turkeys, several chickens, and a wonderful pot bellied pig named Clover.
We are all animal lovers!

When it comes to the health and happiness of your pet, you want the best like modern equipment, tested and reliable procedures, and a caring and knowledgeable staff. At TLC Veterinary Hospital, we understand how important these are to you and your pet. We measure our success according to your pet's happiness and health.

Our veterinarians, technicians, and receptionists offer a wide range of expertise.
Kelsey is originally from Texas & has been working in the veterinary field since age 16. She joined the TLC family in the Spring of 2021. Kelsy has several of her own animals, including 2 dogs (Chewy & Ruby), 3 cats (Dot, Lemon, & Tiffany), & a bunny (Hasenpfeffer) as well as a love for reptiles & arachnids.